5 Family-Friendly Outings in Youngstown
It's always nice to take the family somewhere fun for the day. No matter what season it is or what the weather is like, you're sure to enjoy going to any of these five family-friendly attractions in Youngstown, Ohio.
Extreme Air Trampoline Park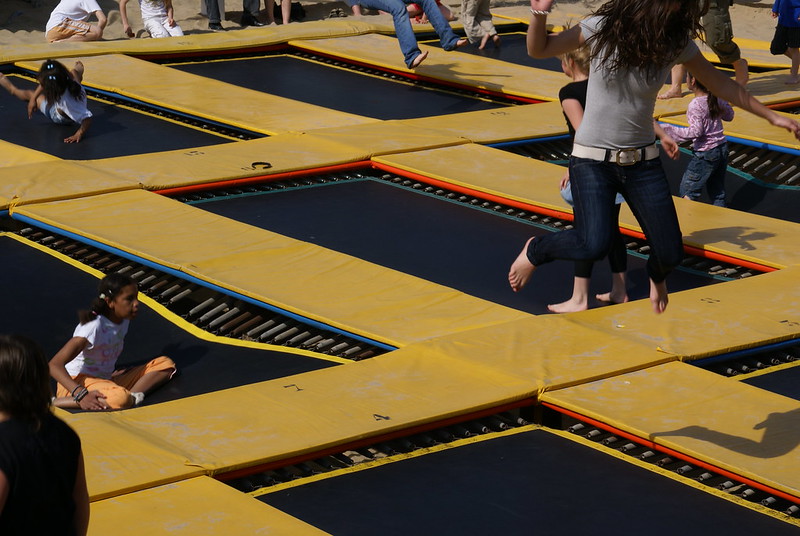 Photo via Flickr by jetheriot
Bounce your way to fun and fitness at Extreme Air Trampoline Park, located at 360 McClurg Road in Boardman, Ohio, about 10 miles from Youngstown. This family-friendly trampoline park is great for all ages, and the facility at Extreme Trampoline features over 11,000 square feet of trampolines to jump and bounce on. There's also a 24-foot rock-climbing wall, a fully equipped gaming arcade, and a place to free fall 20 feet onto inflated stunt bags. In addition, Extreme Air Trampoline Park has a kids' area, a two-lane jump bag, two dodgeball courts, and two basketball lanes.
The park is ideal to rent for private parties. The Monster Jump Party, Extreme Air Party, and the Ultimate Jump Party have availability for 11 jumpers in a private room that comes with a personal party attendant. Some of the things that come with your jump party reservations are party supplies, pizza, soft drinks, jumping socks, and pictures from the photo booth.
Not only is jumping on a trampoline fun, but there are many health benefits, including increased coordination and motor skills, helping to boost your cardiovascular system, and increased energy levels. Extreme Air Trampoline Park is closed on Mondays, and open hours vary throughout the week. Depending on the jump time or jump event, prices vary.
Deep Freeze Ice Arena
When you're not jumping at Extreme Air Trampoline Park, use the adjacent Deep Freeze Ice Arena to skate, twirl, and zoom over the ice. The arena has varying public skate times and family skate times, as well as available individual freestyle skate lessons. If your youngster wants to learn how to play hockey, they can take private lessons to learn how to work on puck handling, shooting, passing, and more. Joining the skating club, which is open for all ages and levels, helps you stay social while having fun skating.
Public skate rates are $13.00 per hour, $15.00 per hour for freestyle and stick time lessons, and $10.00 per hour for family skate time. You can rent skates for $3.00 per hour and even have your own skates sharpened for $6.00. Hours for skating and private lessons vary, so check with Deep Freeze Ice Arena for details.
Skate Zone Family Fun Center
Just 9 miles from downtown Youngstown, you'll find Skate Zone Family Fun Center. There's so much to do at the Skate Zone that you'll want to return often. The heart of the center is the skating rink, where you can rollerblade or skate on the hardwood floor in time with the music and lights coming from the state-of-the-art light and sound system.
The Web City area of the Skate Zone features over 10,000 square feet of a climbing maze where the kids can climb on ropes and woven webs or swing, slide, bounce, and play in the maze. The Adventure Golf course gets the kids outdoors where they can perfect their golf swing on the 18-hole adventure course. There are plenty of challenging twists, turns, and obstacles to challenge every skill level. If the family loves playing on the golf course, inquire into the Skate Zone's unlimited adventure golf pass.
The whole family can engage with each other playing laser tag in the 2,400 square-foot glow-in-the-dark Laser Storm arena. Rates are by the game, or you can buy yearly membership passes which entitle you to a variety of Laser Storm benefits.
Bumper cars are always fun for kids, the family, and friends. The spinning, multi-directional cars that you control are a blast to drive and a great way for everyone to interact. Please keep in mind that in order to ride in the bumper cars, you must be at least 44 inches tall and weigh under 275 pounds. If kids like to play pinball or video games, the Arcade area lets kids test their hand-eye coordination with games for every skill level.
Kids love celebrating birthday parties at the Skate Zone. No matter what activity they want for their special day, each package includes 45 minutes of reserved party tables, a hostess, party invitations, two hours of activity time, eight game tokens per child, a large slice of pizza, and an eight-ounce beverage. Hours vary per activity, so check with the Skate Zone Family Fun Center for details. The Skate Zone is located at 5420 Mahoning Ave. in Austintown.
Ward Beecher Planetarium
Learn about the stars, planets, and night skies at Ward Beecher Planetarium at Youngstown State University. The planetarium offers free public shows September through May, and on Saturday afternoons at 2 p.m., families with children can participate in the family matinee shows. For a small fee, enjoy the planetarium's signature shows such as Skywatch, Undiscovered Worlds, One Day… On Mars, The Sun: Our Living Star, or fun seasonal presentations suitable for the entire family. Ward Beecher Planetarium is a great place for teachers to plan a field trip, and the staff will work with the educators to customize the planetarium experience.
Canfield Fair and Fairgrounds
There's something for everyone in the family at the annual Canfield Fair located at the Canfield Fairgrounds at 265 Columbiana-Canfield Road. Every summer the fair comes to town with livestock shows, carnival rides, tasty fair food, and ample entertainment. The Canfield Fair is the largest county fair in Ohio and one of the top 25 fairs in the nation.
During the rest of the year, there are lots of family-friendly events to attend at the fairgrounds, including horse shows, dog shows, tractor pulls, Dave and Ed's Super Auto Events, and the always-popular Halloween Canfield Scare Grounds, when the fairgrounds become transformed into a fun and spooky event for this  holiday.
We hope that you'll enjoy visiting these fun and family-friendly outings in Youngstown as much as our team at Sweeney Chevrolet does. Stop by these attractions and then let us know how much you liked them or if we should add others to our list.